Venue & Travel Information (PDF)
Public Transport Vienna (map)
How to get from the airport to the city center
The Vienna International Airport (VIE) in Schwechat is about 20 km away in the southeast of Vienna. Train lines S7 and S2 (suburban railway "S-Bahn") as well as the City Airport Train (CAT) connect the city center with the airport.
You can also take a taxi for your convenience, a taxi fare is at about 30 Euro.
The CAT takes just 16 minutes nonstop to get from central Vienna to the airport and vice versa. The City Airport Train operates daily from 05.36 a.m. to 23.36 p.m. The City Air Terminal is just 10 minutes from St. Stephan's Cathedral at "Landstraße – Wien Mitte" station, which can be reached easily by tram, tube, bus or taxi.

Price (single): € 12.00
Getting from the airport to the Conference Venue
Address of the Conference Venue:
Vienna University of Technology
"Neues Elektrotechnik Institut"
Gusshaustraße 27-29
1040 Vienna
The closest underground stop is "Taubstummengasse" (U1).
Take the City Airport Train. The last stop is "Landstraße – Wien Mitte" (1). Get out there and take the green undergroundline (U4) in direction "Hütteldorf". Get out at "Karlsplatz" (2) and change to the red undergroundline (U1) in direction "Reumannplatz". Get out at "Taubstummengasse" (3).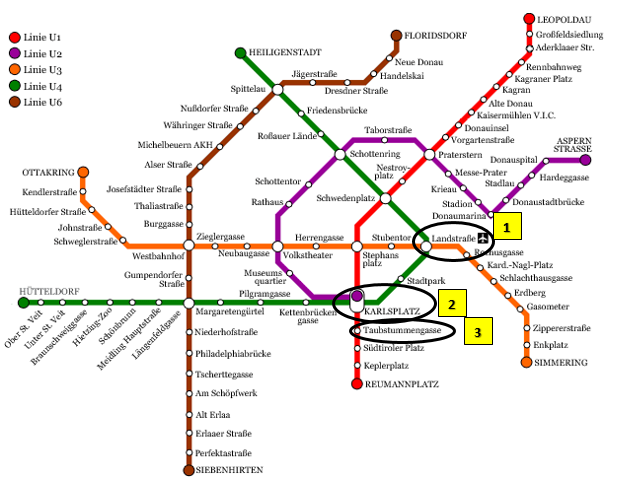 From the underground to the Conference Venue (Vienna University of Technology)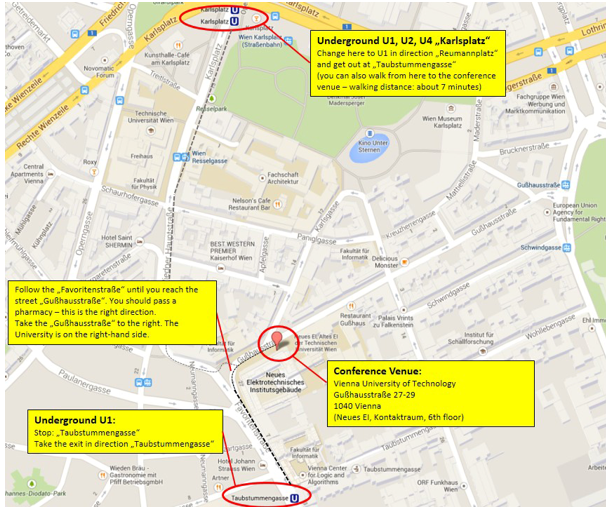 Useful links:
Public Transport "Wiener Linien"
"Plan my journey" – passenger information
City Airport Train (CAT)
Vienna International Airport – Arrival